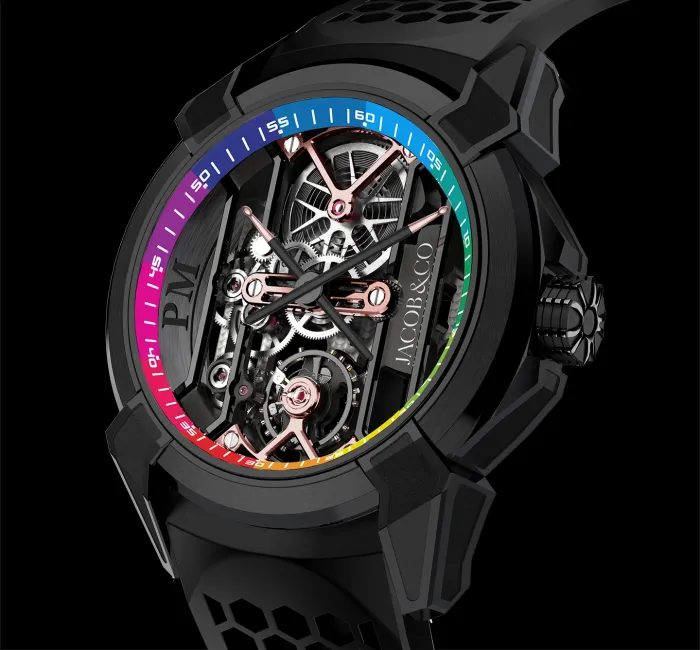 STORY
The Epic X is a watch collection defined by its unmistakable design, contemporary style and high-end watchmaking solutions. Every Epic X is a bold combination of traditional and high-tech materials, exclusive and highly refined calibers, and an aesthetic that is immediately recognizable as well as versatile. From sporty and rugged to precious and elegant, every Epic X is as striking as it is multifaceted.
The Epic X Producer Michael has the same iconic X-shaped lugs and dial appliqués, and skeletonized movement that the Epic X is known for. However, this limited-edition watch also includes details that are associated with Michael Blakey, the Grammy-nominated record producer, drummer, composer, arranger and songwriter. He's more famous on social media as "producermichael," where he shares his life experiences as a self-made success to inspire and motivate others.
Blakey created this timepiece with his good friend, Jacob Arabo, the founder of Jacob & Co. It has many details associated with Blakey, including a rainbow-colored bezel, drum sticks for hands, his personal logo and his signature on the sapphire crystal caseback.
The cordura strap allows for ventilation and flows seamlessly into the lugs to create a sublimely comfortable fit around the wrist for a watch designed and created to be worn throughout the day.