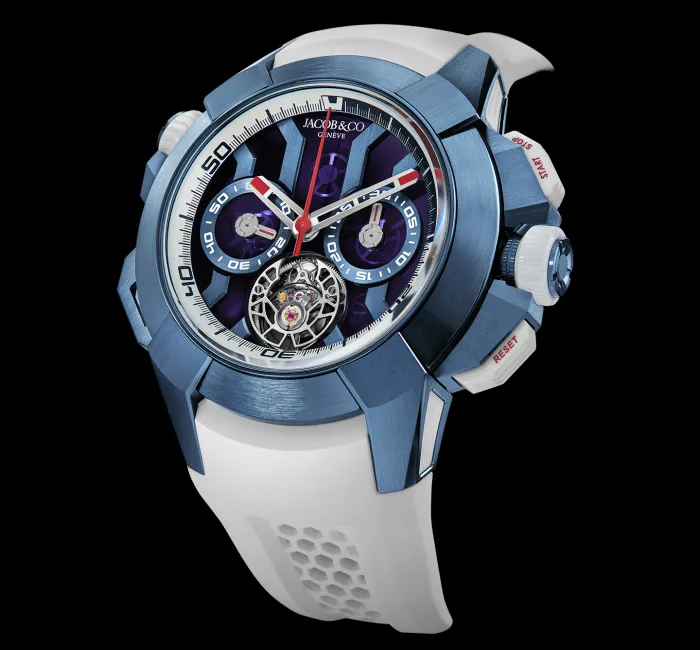 Story
The Epic X is a collection defined by its unmistakable design, contemporary style and high-end watchmaking solutions. Every Epic X is a statement-piece: a bold combination of traditional and high-tech materials, exclusive and highly refined calibers, and a truly Epic aesthetic that is immediately recognizable and yet remarkably versatile. From sporty and rugged to precious and elegant, every Epic X is as striking as it is multifaceted.
Defined by the iconic X-shaped lugs and dial appliques, the Epic X Chrono Tourbillon features integrated design, and engineering solutions for ultimate comfort, functionality and style. Its complex case is full of exquisite details, lending it its bespoke aesthetic and inimitable feel. The smoked mineral crystal dial and case-back allow for a peek into the exclusive JCAA09 caliber and its beautifully finished details. The openworked white rubber strap follows the honeycomb design found on the Epic X Skeleton mainplates. It allows for ventilation and flows seamlessly into the lugs and case-band, all to create a sublimely comfortable fit around the wrist.
The Epic X Chrono Tourbillon is an extraordinarily capable and highly exclusive timepiece in its mechanical nature, and exclusive blue titanium execution.