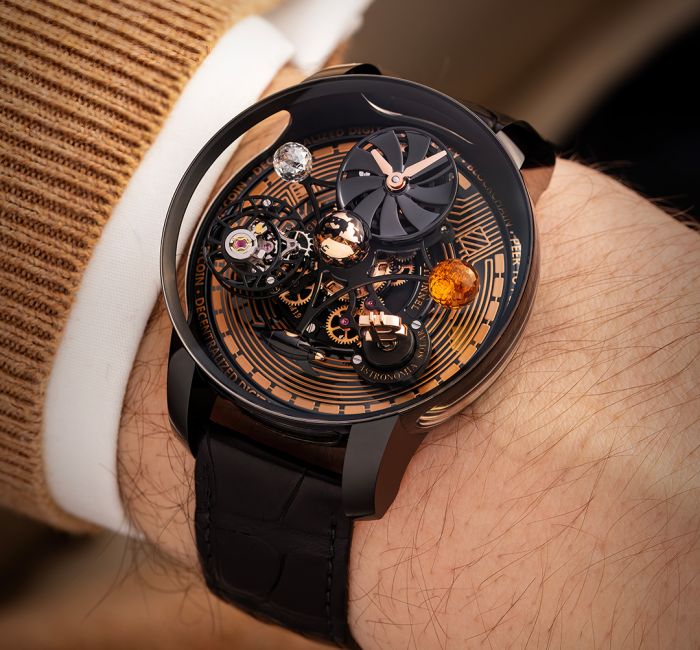 STORY
The Astronomia is the epitome of 21st century haute horlogerie and a symbol of Jacob & Co watchmaking expertise. A world-first both in its unprecedented concept and its mechanical construction, the Astronomia has gone beyond impressive horological achievements to be regarded as an outstanding multidisciplinary engineering achievement. Re-engineered from the ground up, the Astronomia Solar is the most compact in the collection of Astronomia calibers.
The black DLC titanium Astronomia Solar Bitcoin is a limited edition of 25 pieces, a highly symbolic tribute to the world of cryptocurrencies and to its pioneering and leading example, Bitcoin. It's interspersed with details and features that are directly linked to the Bitcoin universe.
On this version of the Astronomia Solar movement, the rotating prongs, be they functional of purely decorative, serve a higher purpose. They provide the piece with the necessary symbolic substance that makes this an entirely cryptocurrency-oriented piece. A rotating Bitcoin currency logo. A yellow sapphire sun, a 1ct diamond moon and a golden Earth. A miniature black rocketship, complete with flaming reactor and Bitcoin sign to reach for the moon. All these symbols tell the story of the advent of the first cryptocurrency, from abstraction to reality, from outlier to a mainstay of the financial system.