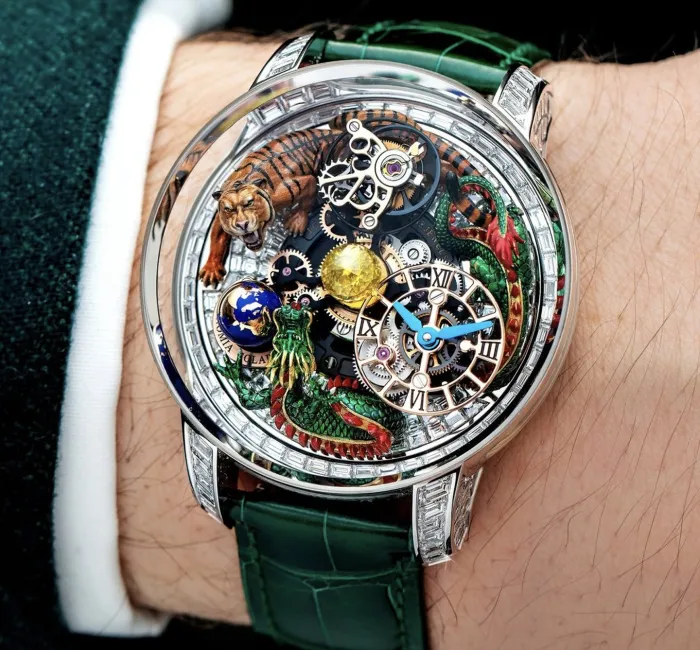 STORY
The new Astronomia Solar Baguette Tiger & Dragon unites three separate artistic worlds. The high-watchmaking Astronomia flying tourbillon movement, in a static version, puts all its complexity on show within the sapphire crystal and 18K white gold case. High jewelry elements like the invisibly-set, baguette-cut diamonds on the lugs and base dial's, and the central Jacob-cut, 288-facet, 2.18 ct yellow sapphire dazzle the eye. And finally, the miniature sculptures of the battling Dragon and Tiger, crafted and finished with incredible attention to detail.
High watchmaking art, high jewelry art, and fine art, all in one timepiece.
A world-first both in its unprecedented concept and its mechanical construction, the Astronomia has gone beyond impressive horological achievements to be regarded as an outstanding multidisciplinary engineering achievement. Re-engineered from the ground up, the Astronomia Solar is the most compact in the collection of Astronomia calibers.
The Astronomia Solar Baguette Tiger & Dragon has been integrated into the smaller 44-mm Astronomia Solar case. In this stunning flying tourbillon timepiece, the Earth lies in the balance as hand-sculpted and hand-painted Dragon and Tiger miniature sculptures battle for domination of the rotating globe.
Who do you think will win?