THE WORLD IS YOURS DUAL TIME ZONE
TIMEPIECES
The driving force for Jacob & Co. is creativity and uniqueness. The breadth of Jacob & Co.'s timepiece offering shows the brand's insatiable need to produce amazing pieces that the world has never seen before. In timepieces, this is exemplified by high complications like the Astronomia Collection, the Mystery Tourbillon, the Opera Godfather and the Twin Turbo Furious.
Jewelry
The jewelry from Jacob & Co. continues the brand's heritage of innovation and its use of the finest materials. From simple rings and bracelets to stunning pieces of jewelry art, Jacob & Co. offers it all.
About
For more than a quarter of a century, Jacob & Co has created revolutionary timepieces and exquisite jewelry that have captivated celebrities and notables from the watchmaking world and dazzled fashion's red carpets and cover shoots.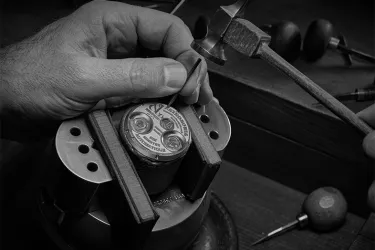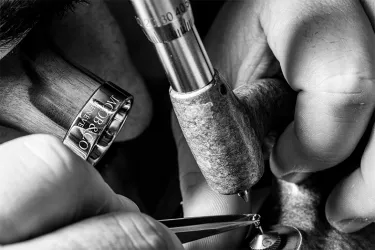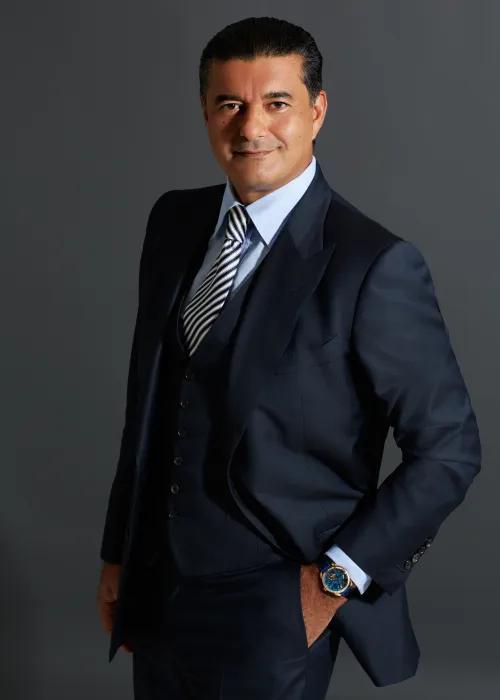 Defining Points
The Qualities that Make Jacob & Co. Stand Out
Creativity

Innovation

Risk-Taking

Design

Complications

Patents

Materials

Manufacturing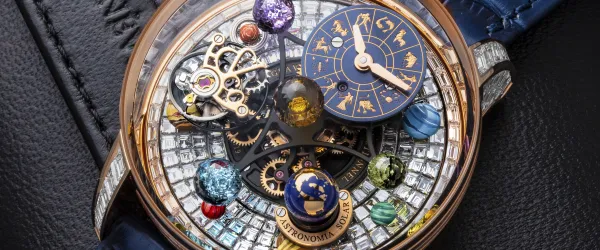 Creativity
"I love to create," says Mr. Arabo. "My dream has always been to invent things that haven't been done before. For the brand, it's about making the impossible reality."

Jacob & Co.'s mission is to create beautiful, dynamic and unique pieces of watchmaking and jewelry art.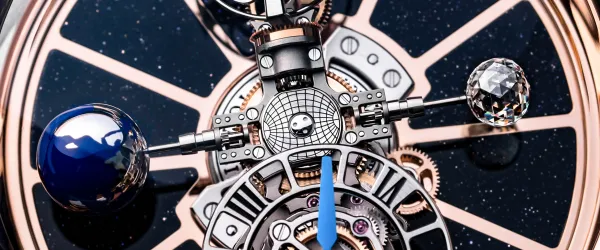 Innovation
Trying new ways of doing things, using different materials and developing new complications are all part of Jacob & Co.'s reason for being -- Jacob & Co. will never settle for being like anyone else.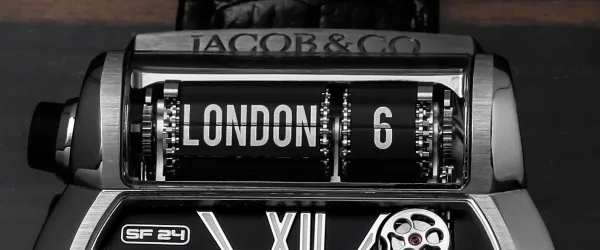 Risk-Taking
The majority of Jacob's high complications were initially thought to be "impossible," according to the staid Swiss. Yet, Jacob & Co. is committed to turning these ideas - like the SF24, the Astronomia, the Opera, the Mystery Tourbillon and the Twin Turbo Furious, and more - into reality, and has succeeded.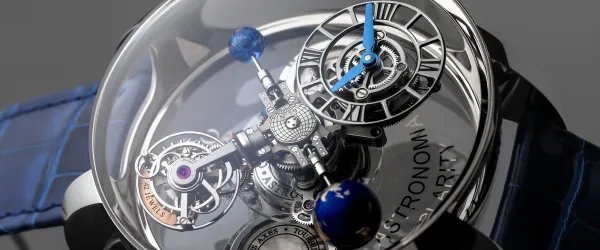 Design
The Jacob & Co. collections are brimming with radical ideas, presenting designs, complications, and combinations that break new ground in high watchmaking and high jewelry, while still being rooted in tradition.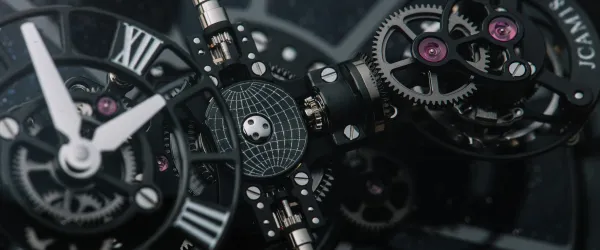 Complications
Jacob & Co. has a well-deserved reputation for breaking new ground in high watchmaking, creating complications and combinations of complications that are new to high watchmaking, while still using traditional methods to create these radical new timepieces.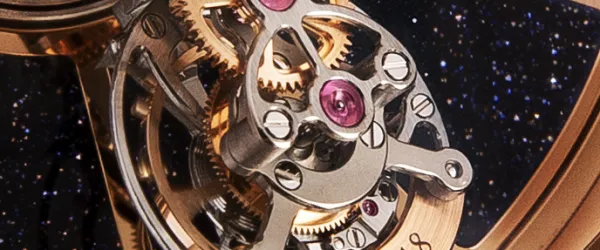 Patents
Over the years, Jacob & Co. has filed and received multiple patents, covering its ground-breaking complications, diamond setting techniques and more. A few examples of the patents Jacob has include the Astronomia Triple-Axis Tourbillon, the Jacob-Cut diamond with 288 facets, and the differential system for the time display on the rotating timepieces.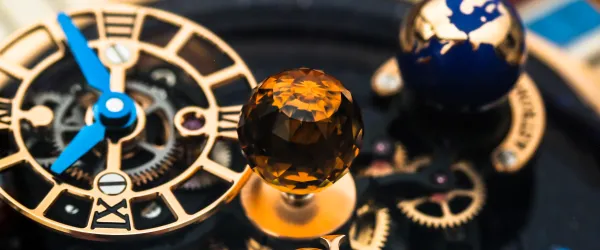 Materials
Jacob & Co. uses a mixture of traditional and cutting-edge, high tech materials. Noble materials like 18K gold (yellow, rose and white) and platinum are routinely used, as are new-age materials like grade 5 titanium, surgical grade 316L stainless steel, forged carbon fiber, high-tech ceramic, sapphire crystal monobloc crystals, meteorite, and more. On the precious stone side, Jacob Arabo has a knack for finding and procuring rare and exceptional stones. In various watches and jewelry, Jacob & Co. uses the best quality diamonds, citrines, sapphires, rubies, amethysts, tsavorites, orange garnets meteorites, aventurine, and more.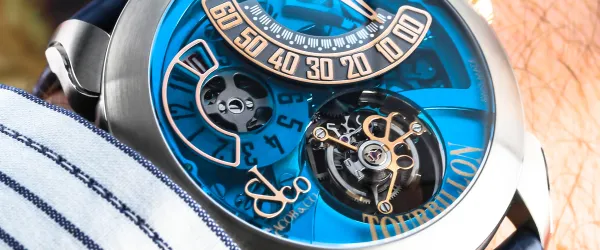 Manufacturing
In the time-honored tradition of the Swiss watchmaking industry, Jacob & Co. uses carefully selected vendors for the realization of the brand's watchmaking and jewelry dreams. The brand designs its unique collections in-house, then the experts take over, while quality control is then done in-house.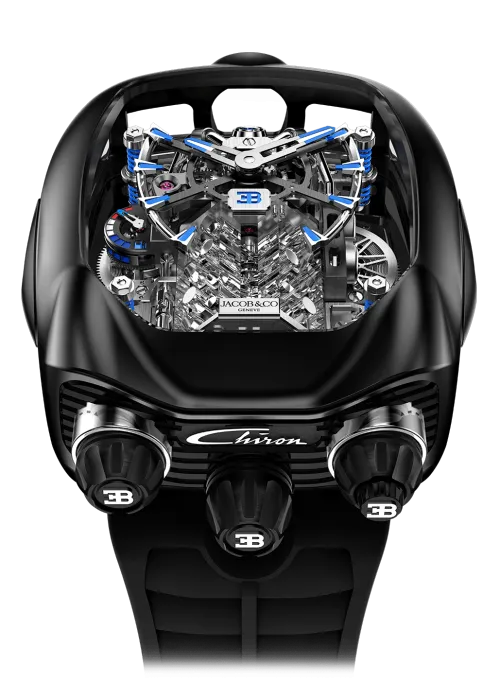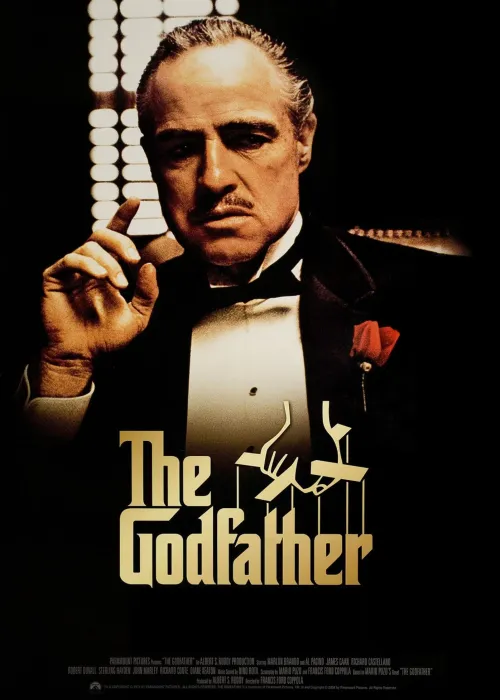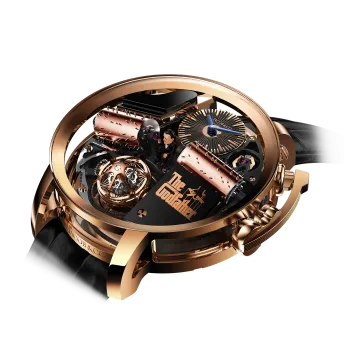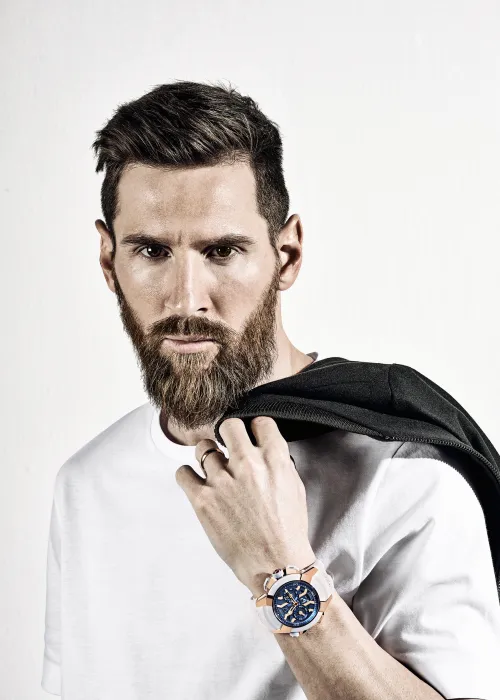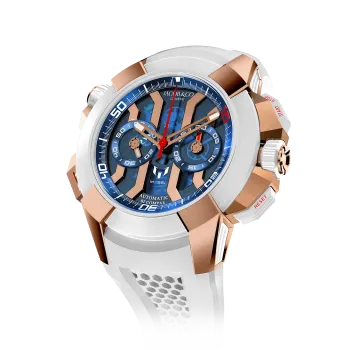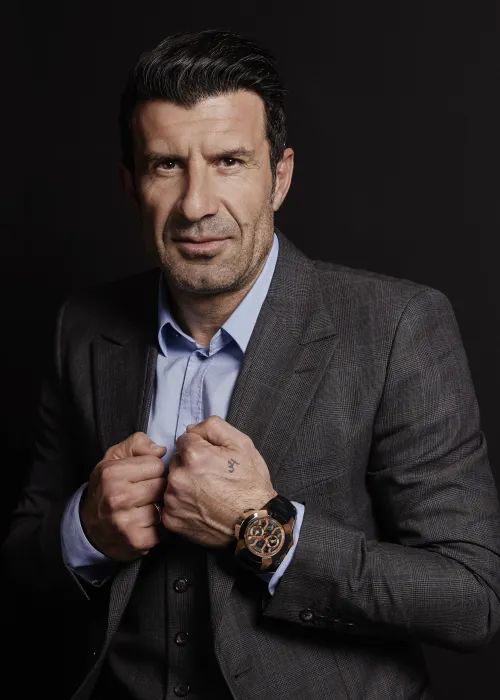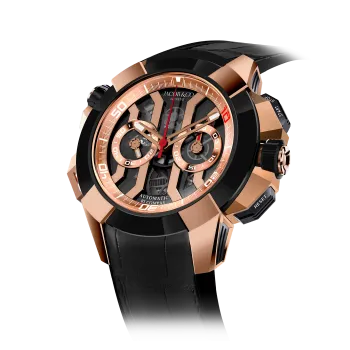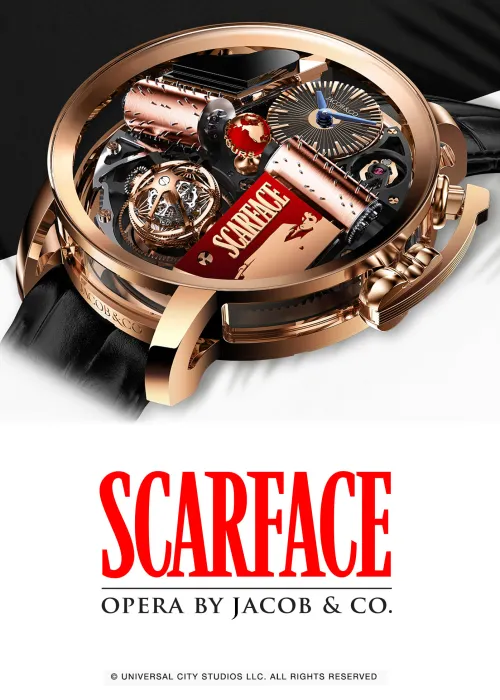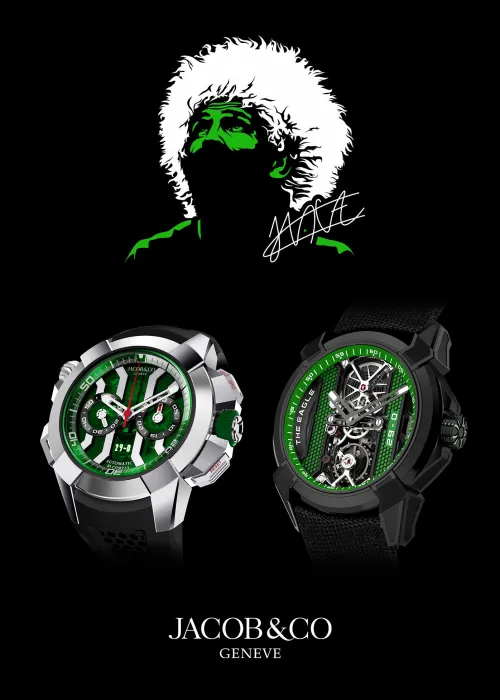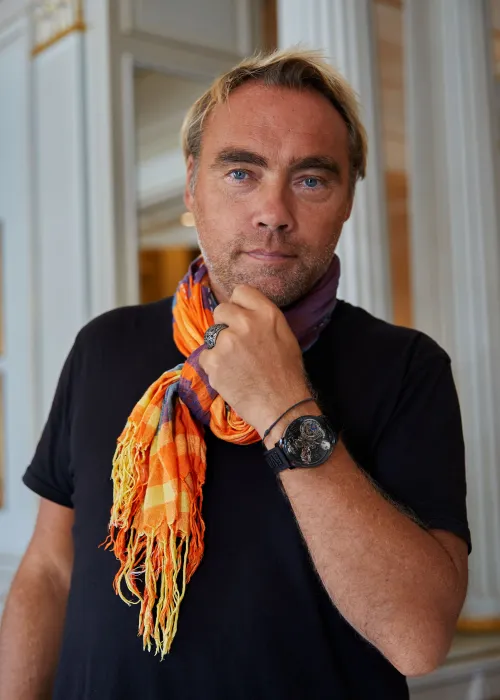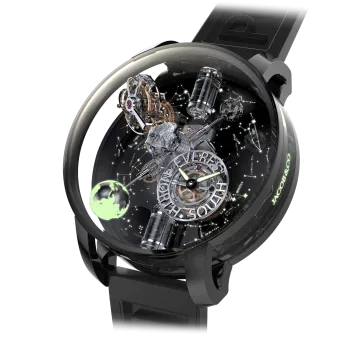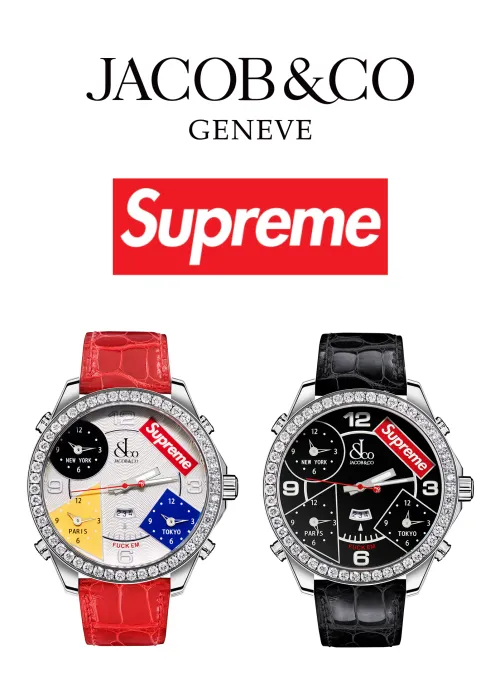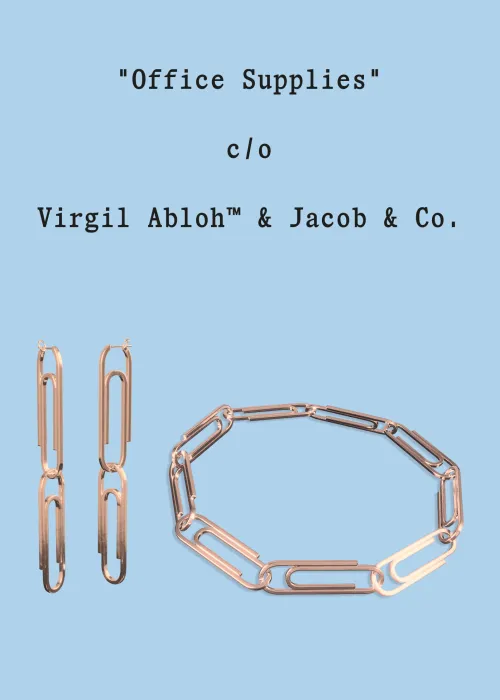 Partnership
Bugatti
Supercar manufacturer Bugatti and high complication watchmaker and high jeweler Jacob & Co. have collaborated to create cutting-edge products, watches, and jewelry pieces that channel the spirit of the supercars with a unique twist.
Partnership
The Godfather

For the Opera Godfather, Jacob & Co. has partnered with Paramount Pictures to use the film's iconic theme music. This is the first time Paramount has partnered with a watch company in this way and it was a challenge to secure the rights. Once the deal was done, however, Paramount agreed to license the music, The Godfather logo and the brand is now in negotiations for other iconic movie scores for future projects.

Partnership
Lionel Messi
Lionel Messi, football's most prolific goal scorer and arguably the best modern football player, could have chosen any watch company in the world to work with, and he chose Jacob & Co., high watchmaking's most creative brand. This long-term partnership between two leaders of their respective fields has already created three limited editions of the Epic X Chrono Messi, as well as several unique pieces, incorporating the colors of the flag of Argentina, Messi's famous number 10, his stylized "M" logo and his signature on the caseback. Messi worked closely with Jacob & Co, giving his personal input and unique trademarks when designing the Epic X Chrono "Messi" Limited Edition.

Partnership
Luis Figo
Luxury timepiece and diamond jewelry powerhouse, Jacob & Co. has partnered with football legend, Luis Figo, of Sporting Lisbon, FC Barcelona, and Real Madrid fame. The Epic X Chrono Luis Figo Limited Edition watches, featuring Figo's name engraved on the case back along with his expansion upon the brand's existing Epic X Chrono Collection.
Partnership
UNIVERSAL PICTURES (SCARFACE)
Brian De Palma's Scarface from Universal Pictures had an incredible impact on entire generations of people all around the world.Memorable lines from the film like "Say hello to my little friend!" "Who put this thing together? Me, that's who! Who do I trust? Me!" "I always tell the truth. Even when I lie" and "Say hello to my little friend!" are etched in our collective social consciousness.To honor this seminal movie, Jacob & Co. has expanded the Opera collection to include the Opera Scarface, playing "Bolivia" from the movie on the integrated music box. Jacob & Co. worked with Universal Brand Development to create this unforgettable timepiece.
Partnership
KHABIB NURMAGOMEDOV
The Ultimate Fighting Championship (UFC) Octagon, often called a "cage," is one of the most dangerous places on Earth. It takes special courage to enter this arena, and something even more special to come out the victor. Khabib Nurmagomedov has emerged triumphant from the Octagon 28 times, and he has never lost.
Partnership
Astronomia Everest
Jacob & Co. is pleased to partner with explorer/environmental activist Johan Ernst Nilson, creating an exclusive and exciting version of the brand's iconic Astronomia, but this one with key elements celebrating the beauty of and highlighting the risks facing Planet Earth."Raising awareness about the dangers facing our planet is important," says Jacob Arabo, founder of Jacob & Co. "Working with well-known adventure activist Johan Ernst is a great way for our brand to get involved, and the new limited edition of the Astronomia Everest is really special."The partnership with Nilson joins the stable of collaborations that Jacob & Co. has with hyper sports car manufacture Bugatti, Universal Pictures, world football star Lionel Messi, Paramount Pictures, streetwear icon Supreme, design master Virgil Abloh and Off White, and more."I want this special timepiece to help make a change in the world," says Nilson. "The Astronomia is the only watch I've ever had people ask me about while I am wearing it, so we will be starting conversations that hopefully will lead to change. The limited edition Astronomia Everest will spread the word about the fragility of our planet."
Partnership
SUPREME X JACOB & CO.
The Five Time Zone watch which Supreme has modified for this collaboration was the first watch Jacob & Co. ever introduced, and it was a huge hit. Worn by celebrities, models, and musicians, it has been featured on the cover of Vogue and many other publications. The success of this watch led Jacob into creating and producing other watches and was key to the brand's success as a high-end watch brand.


Partnership
VIRGIL ABLOH™ & JACOB & CO.
The "Office Supplies" collection brings together the visionary talents of Jacob Arabo, founder of Jacob & Co., and Virgil Abloh, the artistic director of Louis Vuitton menswear as well as the chief executive officer of Off-White.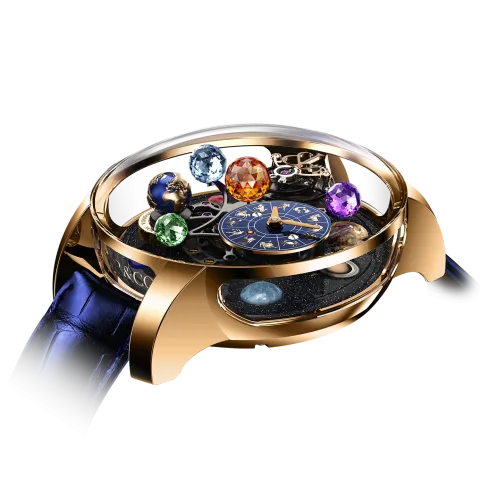 BE THE FIRST TO KNOW WHAT'S NEW AT JACOB & CO. SUBSCRIBE TODAY