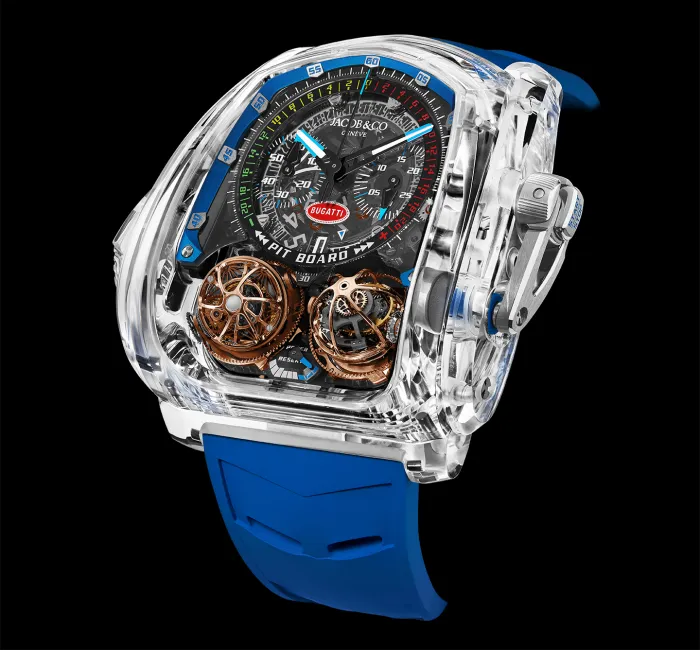 STORY
The Twin Turbo Furious Bugatti Sapphire Crystal timepiece is dedicated to the high-performance car manufacturer. It features a "Bugatti Blue" Neoralithe chapter ring. The color honors Bugatti's history and French heritage. The company's logo appears on the front of the sapphire crystal case. It is the first watch in the history of haute horlogerie to place a decimal minute repeater inside a fully transparent sapphire crystal case, which took approximately 15 months to design and produce, providing a fitful tribute to an iconic and historic car company while continuing the legacy of Jacob & Co.'s ability to "make the impossible a reality."
The Twin Turbo Furious combines the exhilarating energy experienced in the world's fastest automobiles with the unparalleled refinement and mechanical complexity only present in the universe of haute horlogerie. Powering the Twin Turbo Furious' main time display and monopusher chronograph functionalities are its twin triple-axis tourbillons, spinning in a succession of lightning fast, calculated movements, the Twin Turbo Furious can depend on two regulating organs. Each of these triple-axis tourbillons are composed of a total of 104 components - and yet weigh only 1.15 grams.
Part of the Twin Turbo's 832-component JCFM05 Manufacture Jacob & Co caliber is a decimal minute repeater - the most exotic and rare among chiming complications. Pull the sapphire crystal level set into the left-hand side of the sapphire crystal case to hear the crystal clear sound of its cathedral gongs.


The Twin Turbo Furious Bugatti Sapphire Crystal is yet another groundbreaking Jacob & Co creation, one that is like no other to have ever existed in fine watchmaking before.