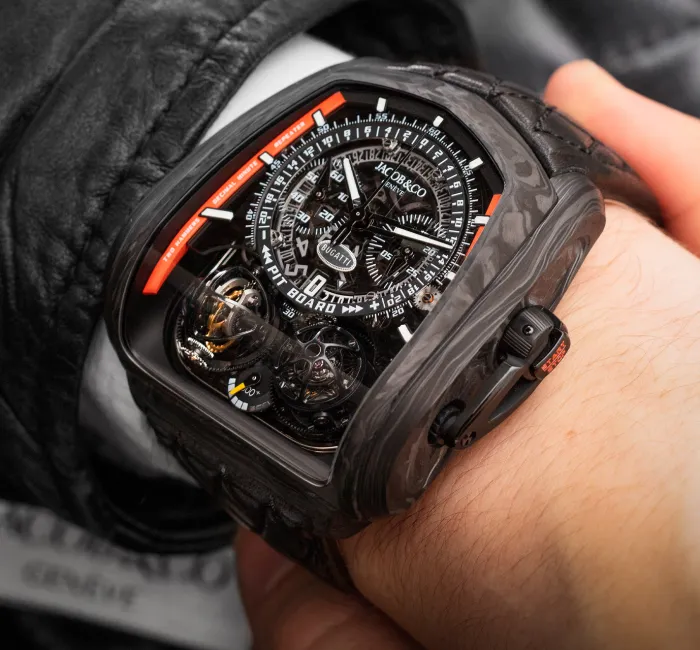 Story
The unthinkable happened on August 2, 2019, when the magical 300 mph barrier was shattered by the Bugatti Chiron Super Sport 300+.
Driven by Andy Wallace, Le Mans winner and official Bugatti test driver, the Chiron zoomed past 300 mph, topping out at 304.77 mph.
A monumental achievement, the record sets Bugatti apart from the rest of the automotive industry.
Created to celebrate the world's fastest series production hypercar, the Jacob & Co. Twin Turbo Furious Bugatti 300+ echoes the hypercar's materials and colors, while introducing a brand-new aesthetic. The black titanium twin triple-axis tourbillon movement includes a decimal minute repeater and a mono-pusher chronograph with reference time. Housed in a forged carbon case, to echo the exposed carbon fiber bodywork of the hypercar, this timepiece is limited to three pieces for the world.
Both Bugatti and Jacob & Co. put a premium on performance, while also emphasizing absolute exclusivity, luxury, unrivalled beauty and exceptional craftsmanship. This new Twin Turbo Furious Bugatti 300+ is no different - the grand complication offers a combination of complications no brand has ever done before, while at the same time it is comfortable and sporty, perfect for everyday wear. Dynamic and supremely comfortable, the Twin Turbo Furious Bugatti 300+ matches Bugatti's performance and excellence standards, while also fulfilling the Bugatti promise of versatility.