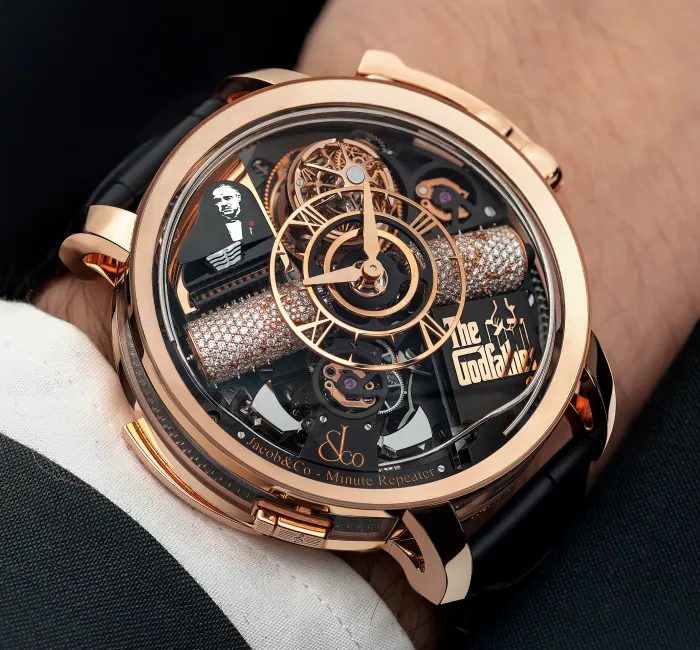 Story
The Opera Godfather Minute Repeater uses a series of artistic details and high watchmaking complications to tell the story of one of the greatest films ever made, Francis Ford Coppola's The Godfather. It was created in a novel partnership with Paramount Pictures, the production and distribution company of the famous feature film.
Powered by its exclusive, 758-component JCFM07 movement, the Opera Godfather Minute Repeater features a bespoke two-cylinder music box that plays the first 120 notes of The Godfather theme and a minute repeater. In addition, it relies on a spectacular triple-axis gravitational tourbillon and a time display subdial to represent Jacob & Co's cutting-edge watchmaking expertise. There has never been a watch with this combination of complications.
Artistic details include the film's iconic logo on a black painted 18K gold plate, and a a hand-painted replica of a piano with a portrait of the Godfather himself. For the Opera Godfather Minute Repeater Diamond Barrels, the two cylinders are made of 18K rose gold and paved with 666 brilliant round diamonds.
These artistic flourishes and high watchmaking complications are combined in a well-balanced dial display that presents the epic crime story in glorious sight and sound. Like the film, the Opera Godfather Minute Repeater is a timeless work of high technical expertise and fine art.