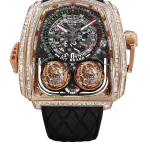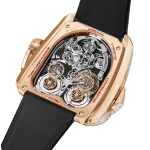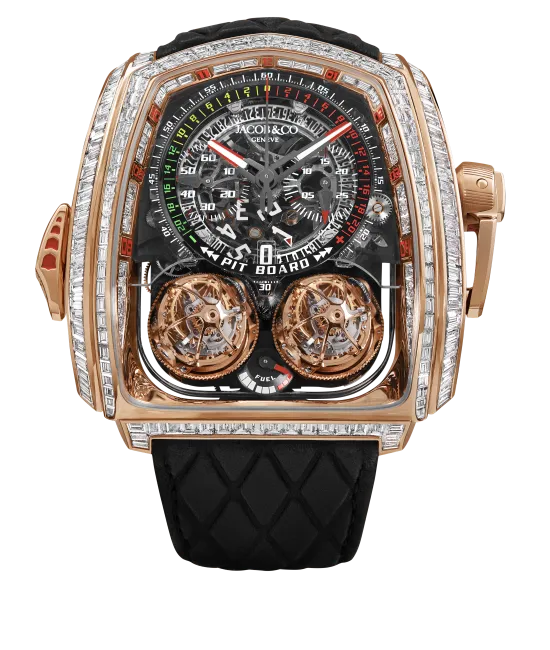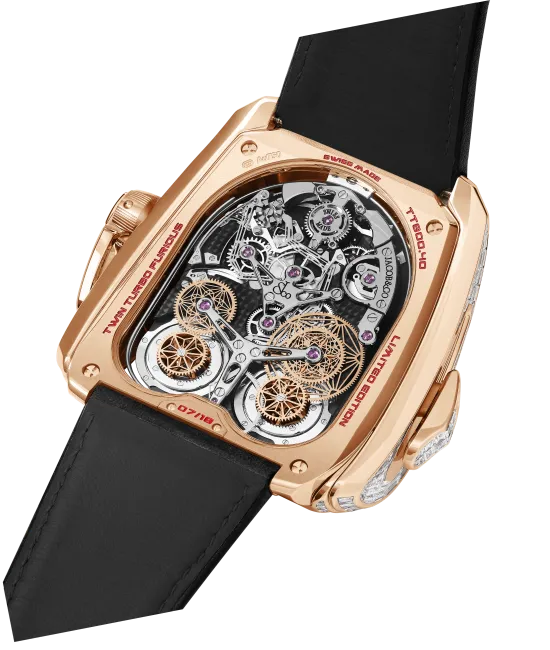 Twin Turbo Furious Baguette White Diamonds Rose Gold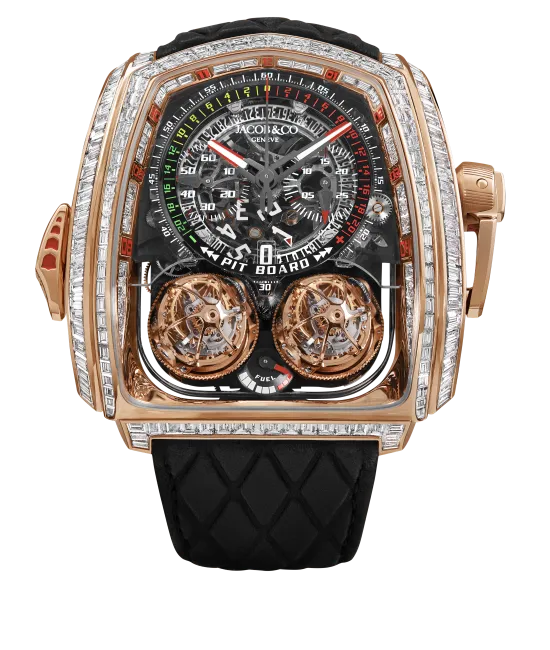 Reference #: TT800.40.BD.AA.A
Description & Details

The Twin Turbo Furious takes the exceptionally cool and uniquely complex Twin Turbo concept and takes it to the next level by adding a Monopusher Chronograph and Pit Board time difference calculator to the original's twin triple-axis tourbillon and decimal minute repeater. With its painstakingly hand-decorated and hand-assembled 832 components, the Twin Turbo Furious is a true Grand Complication Masterpiece that offers a singular combination of ultra-high-end mechanisms, all exclusive to Jacob & Co.

The Twin Turbo and Twin Turbo Furious combine the exhilarating energy experienced in the world's fastest automobiles with the unparalleled refinement and mechanical complexity only present in the universe of haute horlogerie. Powering the Twin Turbo Furious' main time display and monopusher chronograph functionalities are its twin triple-axis tourbillons: the most complicated, technically most challenging and visually most enthralling in the history of tourbillons. Encased in their delicately finished and ultra-light-weight cages, spinning through space in a succession of lightning fast, yet calculated movements, the Twin Turbo Furious can depend on two regulating organs. Each of these triple-axis tourbillons are composed of a stunning total of 104 components - and yet weighing a truly featherweight 1.15 grams.

Part of the Twin Turbo's 832-component JCFM05 Manufacture Jacob & Co caliber is a decimal minute repeater - the most exotic and rarest of all chiming complications. Push the slide set into the left-hand side of the Twin Turbo Furious' highly engineered case - crafted from 18K Rose Gold and set with diamonds and rubies - to hear the crystal-clear sound of its cathedral gongs.

The Twin Turbo Furious is yet another groundbreaking Jacob & Co creation, one that is like no other to have ever existed in fine watchmaking before. Be the one to feel the energy of its two beating hearts and listen to its movingly beautiful chime - experience haute horlogerie like never before.
Size & Material

Movement:
Caliber: Manufacture Jacob&Co. Manual Winding JCFM05
Size: 34x46mm
Height: 13.7mm
Components: 832
Material: Titanium
System: Double Triple Axis High-Speed Tourbillon:
• Internal Cage Flying: in 24 seconds
• Intermediary Cage Flying: in 8 seconds
• External Cage Flying: in 72 seconds
Regulator between the Triple Axis High-Speed Tourbillon Carriers;
Patented Double Mechanical Safety℗ Feature During a Chiming
Sequence; Integrated Chronograph, Horizontal Column-Wheel, MonoPusher Start-Stop-Reset.
Power Reserve: 50 hours
Frequency: 21'600 vib/h (3Hz)
Jewels: 75
Finishing: Hand Angled and Polished Plate and Bridges; Flank Draw,
Circular Graining; Circular Barrel and Plate; Polished Screw; Conical
Pinions; 4 Mechanical Ball Bearing Devices; 2 Screw Balances
Functions:
1. Hours, Minutes; Small Second Indicator at 9 O'clock
2. Mono-Pusher Chronograph: Minute Counter at 3 o'clock, Centered Second Hand
3. Reference Time: Minute displayed at 6 o'clock Aperture and Seconds displayed at 12 o'clock;
Reference Time Differential, displayed by Chronograph Second Hand on Dial-Trained Pit Board
4. Decimal Minute Repeater: Hours, 10 min. and minutes; 2 Hammers at 12 O'clock
5. Double Triple Axis High-Speed Tourbillon
6. Power Reserve Indicator at 6 O'clock
Case:
Dimensions: 57x52mm
Height: 17mm
Material: 18K Rose Gold case set with 344 Baguette White Diamonds (~18.32 ct.)
Crystal: Anti-Reflective Domed Sapphire Crystal
Case Back: Sapphire Crystal
Crown: 18K Rose Gold Crank-handle; Integrated Mono-Pusher Chronograph
Water resistance: 30m (3atm)
External Parts: Complex shaped case, 88 components
Dial & Hands:
Dial: Smoked Sapphire with "Jacob&Co" logo
Hands: Rose Gold finish; White Superluminova
Strap & Clasp:
Strap: Black Leather or Cordura
Clasp: 18K Rose Gold deployment clasp; Top buckle set with
18 Baguette Diamonds (~1.71 ct.)
Limited Edition:
18 pieces