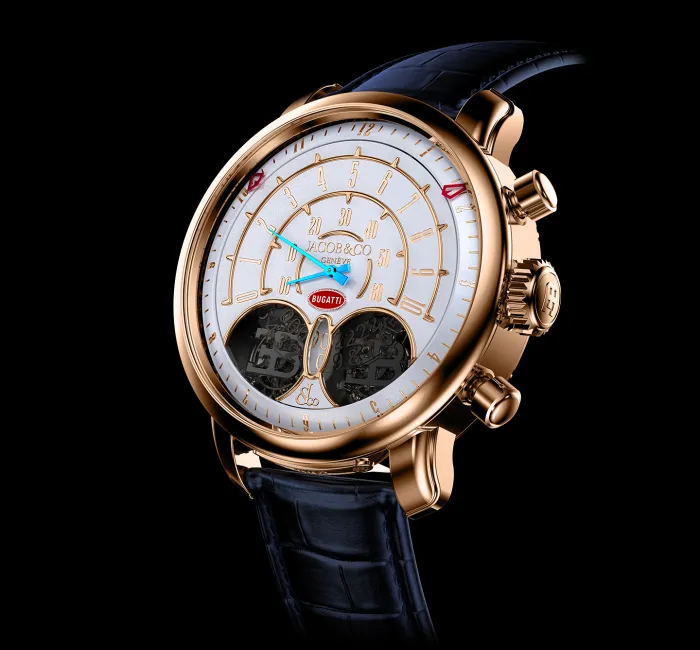 STORY
After releasing such superlative watches as the Chiron or Twin Turbo Furious Bugatti, all of which relate to the contemporary history of Bugatti, Jacob & Co. decided to explore another facet of the hypercar brand's legacy. The rose gold limited edition of the Jean Bugatti celebrates an extraordinary innovator and his avant-garde and artistic automotive interpretations.
Jean Bugatti was the eldest son of founder Ettore Bugatti. Born in 1909, the same year when Ettore set up his new company in Molsheim, Alsace, in north-eastern France. As a child, Jean loved to watch his father and the draftsmen designing and developing. He often secretly ran through the production facilities watching the drawings come to life. Young, curious and experimental as he was, the post-war French "Années Folles" (crazy years) had a huge influence on him. He would visit his grandfather Carlo, who was a member of the Académie des Beaux Arts in Paris since 1875, as often as he could in the French capital. Carlo Bugatti loved mixing materials, cultures and styles in his furniture and decorative artefacts, inspiring Jean to do the same in his automotive designs.
This led to such masterpieces as the duotone Type 50 series, the Type 41 Royale with the longest wheelbase ever and the Type 57SC Atlantic, the most expensive collector's car in the world. The Atlantic had an extremely long bonnet and an oval-shaped rear end extending almost to the ground, from which six thin tailpipes protrude. The outstanding design feature was the Atlantic's raised seam which ran vertically from the hinge in the split bonnet to the tail. Proportions unknown in the automotive world at the time.