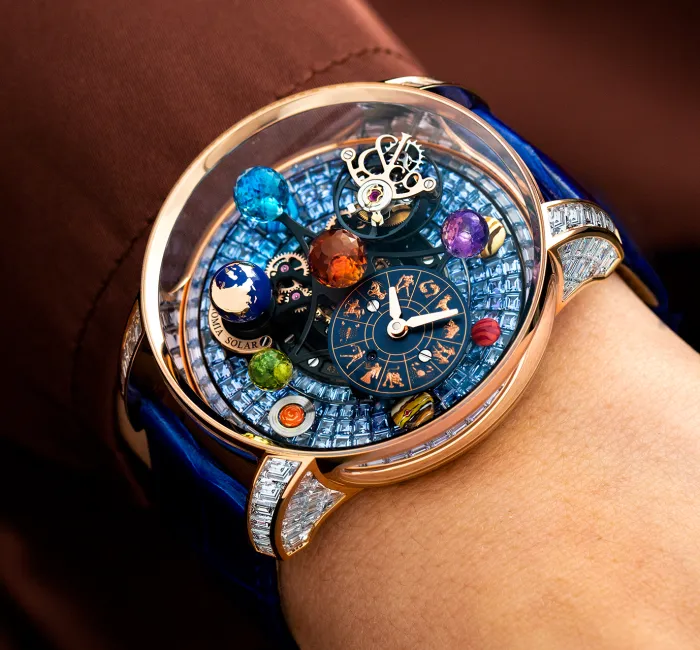 Story
The Astronomia is the epitome of 21st century haute horlogerie and a globally recognized symbol of Jacob & Co watchmaking expertise. A world-first both in its unprecedented concept and its entire mechanical construction, the Astronomia is a multidisciplinary engineering achievement. Extrapolated from the original Astronomia calibre, the Astronomia Solar is the most compact in the collection of Astronomia calibers.
Within its 44mm case, the Astronomia Solar Baguette Icy Blue Sapphires displays the precious planets of our Solar System as Jacob-Cut®, 288-facet gemstone spheres, placed on the rotating platform of the Astronomia Solar caliber. Its three main arms carry the differential-driven, self-leveling time display, the hand-painted blue magnesium Earth globe and the one-minute flying tourbillon regulating organ.
Its secondary arms carry three Jacob-Cut®, 288-facet stones, along with a center-mounted, 2 ct orange garnet stone to represent our Sun. The Astronomia Solar Baguette Icy Blue Sapphires is a beautifully artistic, highly refined and fully mechanical recreation of our solar system, to be appreciated like it has never been done before.