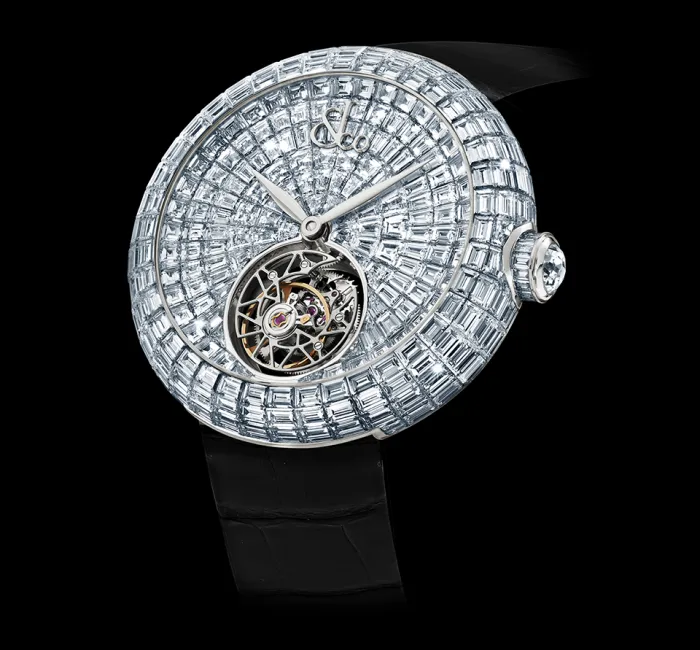 STORY
Jacob & Co.'s Brilliant Flying Tourbillon has transformed into one of the world's most viewed and discussed timepieces. The Brilliant Flying Tourbillon Watch Choker is the timepiece Rihanna wore around her neck while sitting front row at the 2023 Louis Vuitton Fashion Show. The concept she came up with, and the exposure she got, are the stuff new trends are made of.
In preparation for the fashion event, Rihanna decided she would wear a timepiece in a completely different way. She came to Jacob & Co. with the concept, like she had many times before. That relationship goes back over a decade. She and Jacob Arabo would often discuss the jewelry she would wear. This is the kind of conversations Jacob Arabo has been having with the entertainment elite for twenty-five years.

Jacob & Co. presented her with options that would make the statement she was looking for. Her eyes fell on the white gold Brilliant Flying Tourbillon, fully set with 30 carats of baguette-cut white diamonds (plus another 338 brilliant-cut ones set onto the movement).

Jacob & Co. tailored a bespoke white strap for Rihanna to wear the piece around her neck. This black calfskin accessory, stamped with an alligator-leather pattern, was the last piece needed to create the Brilliant Flying Tourbillon Watch Choker, and a worldwide sensation.