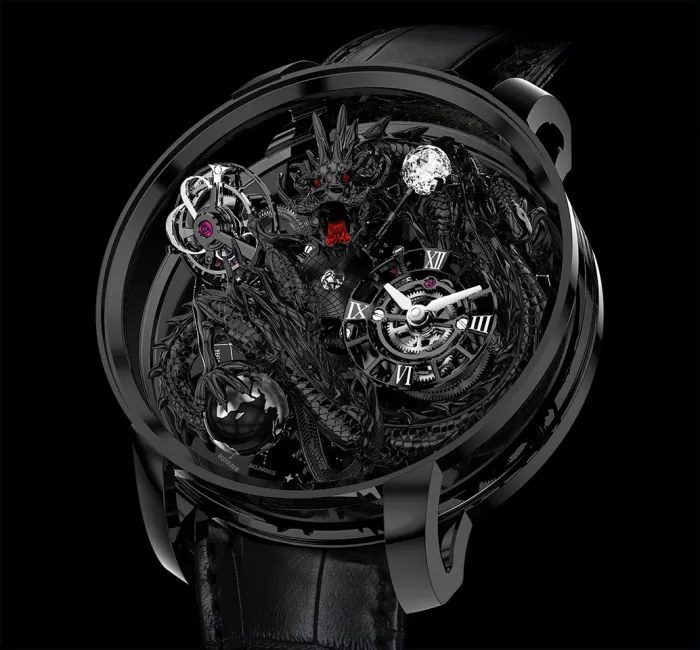 Story
When the Astronomia Tourbillon was introduced in 2014, the re-invention of the tourbillon in a vertical orientation and the constant turning of its four satellites garnered most of the attention.
What led to the development of the Astronomia Art Collection, however, is the incredible sapphire crystal and precious metal case, which puts everything on display.
So, the idea was to develop special works of art to put inside the Astronomia Tourbillon, using its massive sapphire crystal case as a gallery, while still showcasing the incredible Astronomia tourbillon movement. The brand started with dragons, octopi, spiders, horses and more. Incredibly successful, Jacob & Co. has expanded the Astronomia Tourbillon Art Collection every year since.
The Astronomia Tourbillon Black Dragon has a stunning all-black aesthetic. Based on the Astronomia Sky, the Astronomia Tourbillon Black Dragon has a blackened Grade 5 titanium dial applied with stars and constellations. On top of this rests the 18K black gold, hand-engraved dragon with rubies for eyes. The double-axis tourbillon, time display, and the spinning 288-facet Jacob-cut diamond are the only bright spots in this black masterpiece. Even the rotating globe is black-lacquered magnesium.
The Astronomia case is the perfect gallery for this sculpture as the domed top and curved sides are pure sapphire crystal, making it possible to see every detail of the high-watchmaking vertical double-axis tourbillon and the incredible 3-D hand-engraved 18K black gold sculpture of a fearsome dragon.