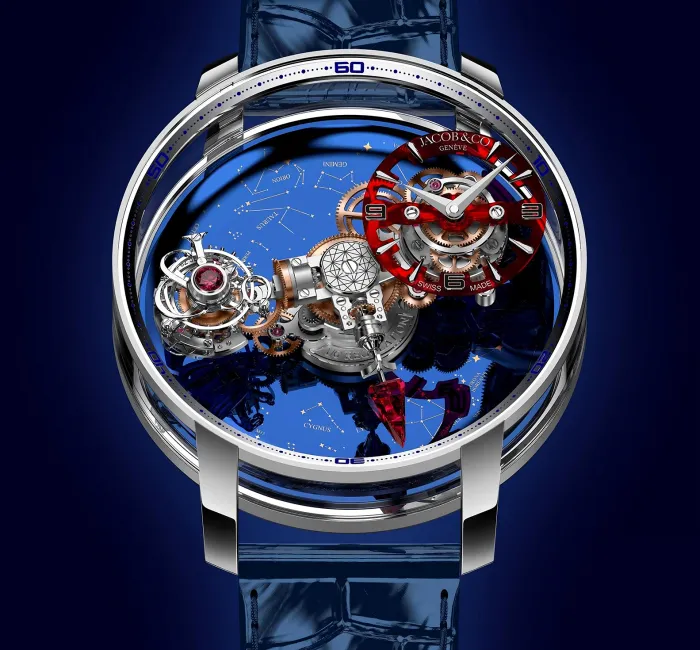 Story
The Astronomia is the embodiment of 21st-century ultra-high-end watchmaking and a globally recognized symbol of Jacob & Co. watchmaking expertise. A world-first both in the boldness of its unprecedented concept and its mechanical construction, the Astronomia has gone beyond impressive horological achievements to becoming an outstanding multidisciplinary engineering accomplishment.
Jacob Arabo, the founder of Jacob & Co. said the Astronomia was inspired by the universe and all the ideas and wonderment of celestial bodies. Since its introduction in 2014, the stars, the moon and planets take on a new meaning with each new piece. Even as the Astronomia story continues, it has already earned its place in the world of haute horlogerie and extreme extravagance.

Almost ten years in its existence, Astronomia undergoes more than just an evolution or an increase in performance. Astronomia Revolution is just that : a revolution. Looking ever deeper in space, it is shaking up contemporary watchmaking with radical performance. Astronomia Revolution reaches terminal velocity and revolves around its own axis in one minute. Housed in a sculptural, 47 mm case made of sapphire and gold, Astronomia Revolution is powered by an all-new movement, designed to deliver high speed, high accuracy and high entertainment efficiency.