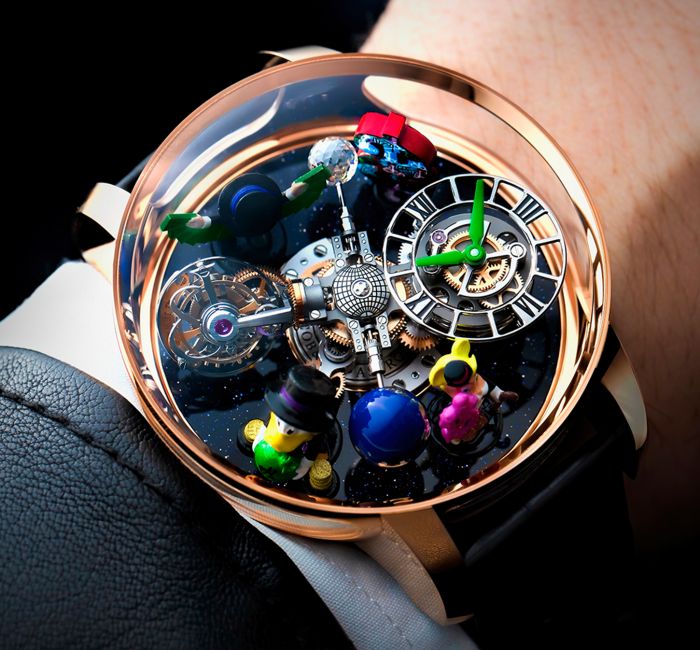 STORY
The Astronomia is the embodiment of 21st century ultra-high-end watchmaking and a globally recognized symbol of Jacob & Co watchmaking expertise. A world-first both in the boldness of its unprecedented concept and its entirely mechanical construction, the Astronomia has gone beyond impressive horological achievements to becoming an outstanding multidisciplinary engineering accomplishment.

The Astronomia Monopoly contains miniature pop characters that represent the repertoire of renowned contemporary graffiti artist, Alec Monopoly.
They are presented as miniature sculptures and placed within the iconic Astronomia four-arm vertical movement and its four exclusive complications: An hours and minutes time display with the Jacob & Co. patented differential gears system; a 1-carat spherical diamond featuring the exclusive Jacob Cut with 288 facets that performs a complete rotation every 60 seconds; a magnesium hand-lacquered globe of the Earth rotating every 60 seconds; and a double-axis tourbillon with the first rotation in 60 seconds and the second rotation in five minutes.

The Astronomia Monopoly makes for a beautifully artistic, highly creative and fully mechanical presentation of contemporary art and high watchmaking.