Mission Statement
The driving force for Jacob & Co. is creativity. From his earliest beginnings in jewelry and watches, Jacob Arabo has been designing beautiful and innovative products. The breadth of Jacob & Co.'s offering shows the brand's insatiable need to produce amazing pieces that the world has never seen before.
"I have to create," says Mr. Arabo."My dream has always been to invent things that haven't been done before. For the brand, it's about making the impossible reality." Jacob & Co.'s mission is to create beautiful, dynamic and unique pieces of watchmaking and jewelry art.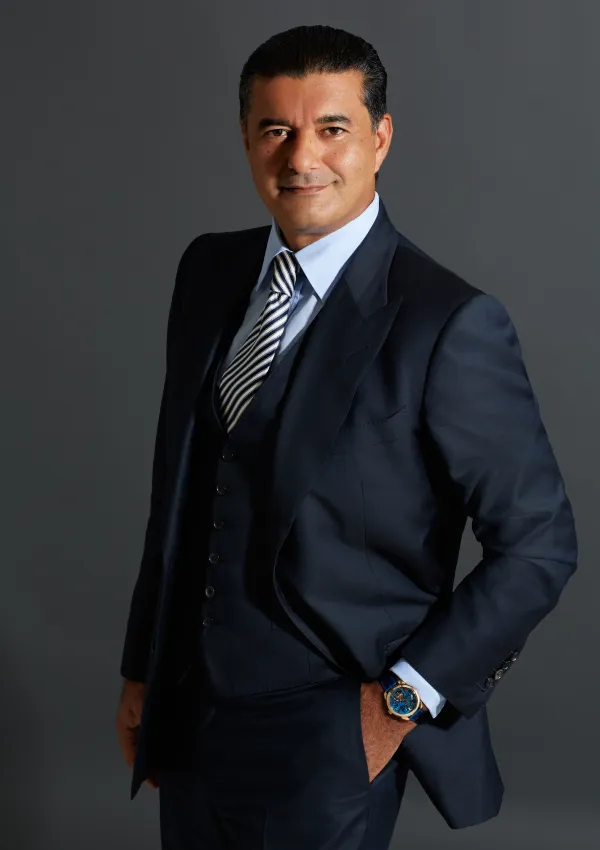 Jacob Arabo
Founder and Chairman of Jacob & Co
Jacob Arabo, Founder and Chairman of Jacob & Co., came to the USA from the former USSR because his family wanted a better life. His father and mother emigrated to the USA with Jacob and his four sisters with nothing but what they could carry, and Jacob soon set out to make the most of this opportunity.
Jacob Arabo began his journey in the world of fine jewelry and timepieces as an apprentice with a watchmaker that first summer in America, which is where he forged his fascination with timepieces.
"My father gave me a watch as a gift when I was 13 years old, which displayed two timezones, and it had a gold-plated map of the world on the dial,"
"My father gave me a watch as a gift when I was 13 years old, which displayed two timezones, and it had a gold-plated map of the world on the dial," Mr. Arabo remembers. "It had two mechanical movements and that's where the idea for the five timezone watch came from. During my apprenticeship, I learned how to take a watch apart, how many parts there were, and it really moved me how complicated even a simple watch was. For me, I fell in love with watchmaking right then and there, and I started dreaming of making my own watch. My experience there inspires me and drives me still today."
Soon after, Mr. Arabo took advantage of a program for immigrants and received jewelry training. He found a $125 a week job at a local factory, lying about his age to secure the employment. He excelled at assembling jewelry, but putting together someone else's designs wasn't satisfying for him.
"I was bored making this mass market jewelry," Mr. Arabo explains. "I wanted to make it more stylish. I grew up with five women in my house, my sisters and my mother, and I was always fixing their earrings, their bracelets, and I was good with my hands. I knew that I could do better than what the company I was working for was doing."
So, after work, he began designing his own pieces and manufacturing them, using a makeshift workspace in his bedroom. His designs caught on and he started to develop a clientele. He was soon making more money with his side business than his job.
A short time later, with a solid customer base, Jacob quit his day job and opened a small booth in New York City's bustling diamond district and began designing collections for jewelry brands and private clients.
"I've always had a good eye," Mr. Arabo details. "I think it was the photography training I had in the former USSR. I just know how to design things -- I see the finished product before it is even drawn."
In 1986, Mr. Arabo launched his own luxury label, Jacob & Co. He was forging a name for himself, but in the back of his mind, he still thought about watches. "First I concentrated on jewelry, but watches were in the back of my mind," he says. "I kept saying to myself, when I grow up, I'm going to make watches."
Once Mr. Arabo found success with his jewelry business, he came back to watches. He went to Switzerland to find suppliers to make his dream of making fine watches a reality, but was given the cold shoulder by the Swiss.
"The vendors in Switzerland brushed me off," he recalls. "It was very difficult to build a relationship with any of them as they were very rude and the prices were too expensive, almost as a punishment for being American. I decided to start with a simpler quartz watch that didn't need the Swiss. I made the Five Timezone watch, where you could change the look of the watch when you wanted to with different bezels and straps. I still wear the first one I made. That timepiece really revolutionized fashion watches."
A photo of supermodel Naomi Campbell with the Five Timezone watch put his company on the map for watches. In the meantime, his jewelry business was very successful, with celebrity customers clamoring for his unique designs.
After a few years, Mr. Arabo decided to give Switzerland another try and found a better reception this time around. Together with a boutique watchmaking firm, he designed a world first, a vertical tourbillon with an outstanding 31-day power reserve.
Arabo didn't have a name for this spectacular watch, so when a client walked in to the Jacob & Co. store and asked Arabo about the unusual design, Arabo said, "If you give me the deposit, I will name it after you." He agreed, and the new watch got its name, the Quenttin. Later, film director Quentin Tarantino picked up a Quenttin of his own, and wore it on the cover of Vogue. Retailing from $360,000, the Quenttin established Mr. Arabo's watchmaking intentions - to make pieces that the world has never seen.
"I decided I wanted to go into serious complications, inventing movements that have never been done before," Mr. Arabo details. "The SF24, The Epic X skeleton, flying tourbillon baguette watches, then I started with the Astronomia. My staff told me not to invest the money with Luca Soprana and his design studio, Atelier 7h38. Everybody was against it but I decided to do it. And, unlike many of the other Swiss watchmakers, Luca said yes to the Astronomia."
Though Mr. Arabo's creations are risk-taking and unique to high watchmaking, Jacob & Co. is careful to find solutions that are rooted in traditional watchmaking. Though the high complications often turn tradition on its head, the brand is still applying concepts fundamental to horology.
As a jeweler, Mr. Arabo sources rare and exceptional stones with an artist's eye. His inventiveness and inspiration merge with the finest jewelry-making techniques. Inspired by making the impossible a reality, the brand has carved out a niche that is unique in both jewelry and high watchmaking.
All along the way, Jacob & Co. has partnered with the best of the best, including celebrities, supercar maker Bugatti and legendary footballer Lionel Messi.
"I want to be remembered as a trailblazer," Mr. Arabo shares. "I am not a technician or an engineer, but I am not afraid to invest and develop. I am fearless when it comes to making my vision a reality."
Jacob Arabo has gone from rags to diamonds and tourbillons, and he's not going to stop anytime soon. The brand is committed to pushing the limits of high horology and high jewelry. Echoing the words of American hero Captain John Paul Jones, Mr. Arabo says, with a smile, "I have not yet begun to create."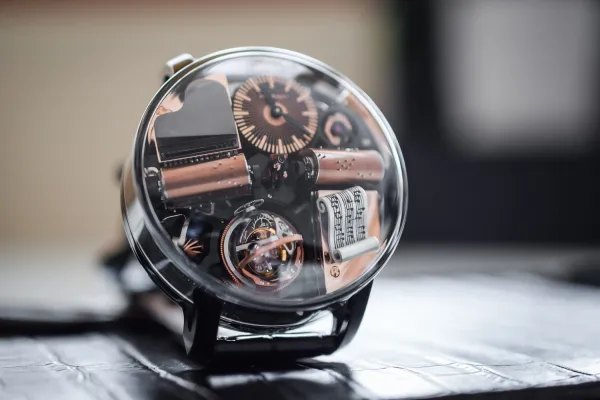 What We
Stand For
Fearless: Jacob & Co. is not afraid to create watches and jewelry that have only existed in dreams.
Pioneering: Jacob & Co. has a well-deserved reputation for breaking new ground in high watchmaking, creating complications and combinations of complications that are new to high watchmaking, while still using traditional methods to create radical new timepieces.
Innovative: Trying new ways of doing things, using different materials and developing new complications are all part of Jacob & Co.'s reason for being -- Jacob & Co. will never settle for being like everyone else.
Creative: The Jacob & Co. collections are brimming with radical ideas, presenting designs, complications and combinations that break new ground in high watchmaking and high jewelry.
Risk-taking: The majority of Jacob's high complications were initially thought to be "impossible," according to the staid Swiss. Yet, Jacob & Co. is committed to turning these ideas -- like the SF24, the Astronomia, the Opera, the Twin Turbo and Twin Turbo Furious, and more - into reality.
Our Goal
To make the impossible a reality. Jacob Arabo lives to create timepieces and jewelry that the world has never seen. Take the Astronomia Collection as an example -- a galaxy on the wrist, many Swiss watchmakers saw this idea as "Impossible." Mr. Arabo took up the challenge and made this timepiece, and its many iterations, a reality... and a success.
Mr. Arabo is not content making hundreds of the same watches and jewelry. He lives to create and innovate, always working on the next ground-breaking, revolution idea. Jacob & Co. is a different kind of watch company, combining the daring and entrepreneurial spirit of America with the high watchmaking and high jewelry making of Switzerland. With a foot in both worlds, Mr. Arabo and his company are dedicated to shaking up the status quo.