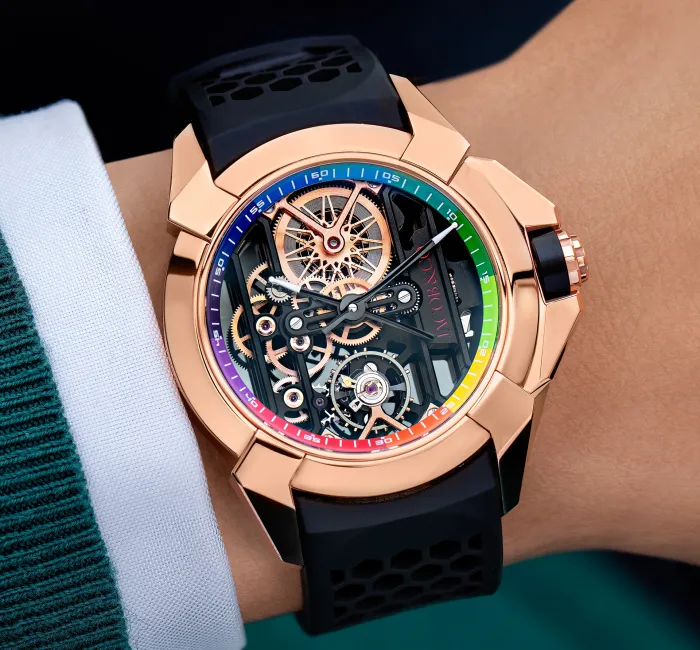 STORY
When launched back in 2015, the original Epic X collection was instrumental in making Jacob & Co. the full-fledged watchmaking brand it is today. A complete work of watchmaking, the epic X was ahead of the trends that went on to define the sporty, high watchmaking, skeleton watch as a hero of the 2020s. It later became the blueprint for the Epic X Chrono and Epic X Tourbillon, and this second generation design.
When released, the Epic X was also a uniquely designed piece. It was one of the rare instances where the inside and outside of a watch were in actual symbiosis. The X figure that gave the collection its name is to be found on its pairs of lugs. They're interconnected through the vertical bridges of the skeleton movement, creating a continuous shape throughout the entire piece.
The 101-piece limited-edition Epic X Producer Michael Rose Gold includes details associated with Michael Blakey, the Grammy-nominated record producer, drummer, composer, arranger and songwriter. He's known on social media as "producermichael," where he shares his life experiences as a self-made success to inspire and motivate others. Blakey created this timepiece with his good friend, Jacob Arabo, founder of Jacob & Co. It has many details associated with Blakey, including a rainbow-colored bezel, drum sticks for hands, his personal logo and his signature on the sapphire crystal caseback.