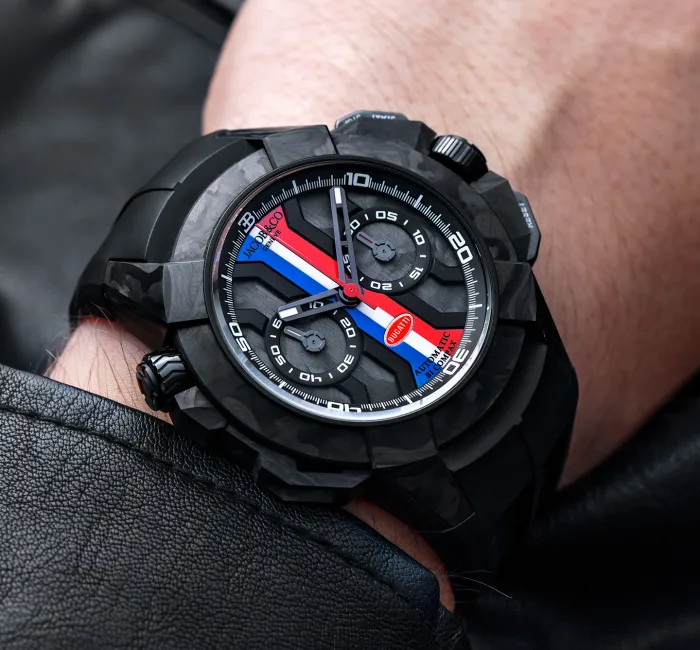 Story
In 2019, Bugatti turned 110 years old. To celebrate this milestone and to inaugurate its partnership with the hypercar brand, Jacob & Co. created the Epic X Chrono Bugatti, a limited edition of 110 pieces, one for every year that Bugatti has been in existence.
Bugatti, founded in 1909 by industrial designer Ettore Bugatti, is known for its design beauty and its high-performance cars. Ettore Bugatti came from a family of artists and he translated that lineage into a series of amazingly beautiful vehicles. The Type 35 Grand Prix cars, the Type 41 "Royale," the Type 57 "Atlantic," and the Type 55 sports car are some examples of its early masterpieces.
Today's Bugatti takes its history seriously and applies many of the principles of the founder. They acknowledge that Bugatti is different from all the other car brands, and as a result they are committed to doing things the Bugatti way, following Ettore Bugatti's famous quote, "Nothing is too beautiful, nothing is too expensive." The current company, acquired by the Volkswagen Group in 1998, offers the Veyron, the Chiron, the Centodieci, the EB110, La Voiture Noire, the Chiron PUR Sport, and more.